New York State educators: The Educator Collaborative is an Approved CTLE Sponsor. Every hour learning = an hour earned.*
Looking for Remote PD during the pandemic? Visit our Literacy Remote Learning Support Page (here).

Move your School's Literacy

Goals

to your School's Literacy

Growth
In Classrooms

,

Hands-on

Inspiration
Our primary purpose is to empower teachers to provide high quality reading, writing, speaking, listening, and language teaching and learning so all students can achieve high levels of literacy success.
Long-term, professional development is proven to have the most lasting effects. While we are happy to provide one-day speaking engagements on in-service days, our greatest passion and purpose is to provide multi-day, ongoing literacy consulting that truly deepens pedagogy and enhances student learning.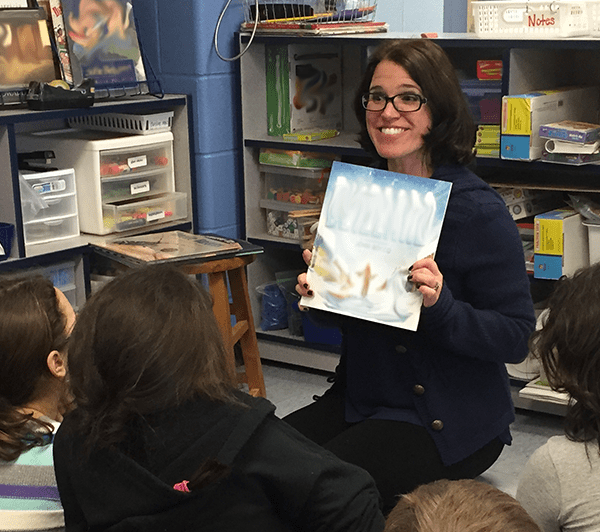 Schools engage with us from anywhere from four to twenty days across a school year. During visits, consultants work hands-on, in your classrooms, with you and your colleagues. We demonstrate state-of-the-art practices, lead educators in immediately practicing methods with students, and collecting and analyzing student work. During visits, consultants also support administrators and coaches in developing literacy leadership practices that facilitate adult learning and help educators grow to meet their own professional goals.
Examples of support include:
Christopher Lehman, (Falling in Love with Close Reading; Energize Research Reading and Writing) working throughout the year with your school to development research-based, engaging, independent reading practices. Towanda Harris (The Right Tools: A Guide to Selecting, Evaluating, and Implementing Classroom Resources and Practices) onsite with your district, developing best practices in your secondary literacy courses. Shawna Coppola, (Renew: Become a Better—And More Authentic—Writing Teacher) supporting you and your staff in conferring with your writing and integrating inquiry practices across the curriculum. Dana Stachowiak, expert in social justice and diversity education, supporting literacy coaches and leaders in best-practices in instructional leadership. Carla España, expert in multilingual education, working with you and your colleagues to support development of your English language learners. And more!
What educators are saying...
98% of surveyed educators in a suburban district found in-school professional learning sessions highly effective.
98% of surveyed educators in large metropolitan district's school found in-school professional learning sessions engaging and practical.
A district curriculum supervisor noted, "the staff is absolutely in love with your work… I have never seen a response this positive to professional development here."
An instructional coach said, "we are seeing just how possible this is for our students. It is inspiring." 
During a follow-up visit, a teacher noted, "I used the strategy from last time and it was transformational for my kids!"
Our network of consultants specialize in:
K-12
Standards Integration
including Literacy, Teacher Effectiveness, and Technology Standards
Literacy Content and Pedagogy

Reading Workshop and Writing Workshop
Secondary Literature and Writing Instruction
Literacy in the Content Areas
Inquiry Pedagogy in Social Studies
Differentiation for Students with IEPs
Culturally Responsive Pedagogy
Inclusive and Culturally Sustaining Pedagogy
Social Justice Education
Decolonizing Curriculum
Bi/Multilingual Pedagogy
Teaching Multilingual Students
Culturally Affirming Practices
Trauma-Informed Pedagogy
Healing-Centered Approaches
Serving Students in Transitional Environments
Digital Literacy / Literacy and Technology Integration
Education Technology Integration with Literacy
Media Literacy
Moving Students from Being Content Consumers to Content Creators
Literacy Leadership Methods

Support for Administrators with Literacy Leadership
Instructional Coaching: Training and Methods
Curriculum
Curriculum Development
Curriculum Review
Examples of consultants' recent work:
Multiple, in-school consulting visits, across multiple school years, to support an elementary school in developing reading and writing workshops to support diverse learners.
Afterschool PD sessions in a large urban district, providing research-based and engaging literacy professional learning during assigned PD hours.
Multiple, in-school consulting visits, bringing educators from across a district together, to study secondary literacy practices to move toward district goals.
Multiple consultants presented at a district Professional Development Day including providing a keynote and breakout sessions to support the staff during an in-service literacy day.
After-school, online webinar for a small local Reading Council, bringing state-of-the-art practices to an engaged community at an affordable rate
And many more!
Move your School's Literacy

Goals

to your School's Literacy

Growth
Practical
In Person
Online Options
Standards Aligned
On Going
The Educator Collaborative studies, disseminates, and develops research and classroom practice.
We translate the best of teaching and learning into next steps for you and your school.
Our consultants study with you, hands-on in your classrooms.
No one-size-fits-all. Consultants tailor their work to your goals.
Consultants are available for distance learning.
Meet over the web or phone at times that work in your busy schedule.
Our consultants are nationally recognized educators, authors, scholars, and speakers
We use deep knowledge of standards and bring this through the lens of actual, in-classroom practice
Our experience includes instruction that supports CCSS, Danielson "Framework for Teaching" Domains, ISTE Technology Standards, among others
We believe a quick "sit-and-get" is not how anyone learns best
We prioritize schools and districts interested in multi-day in person and online relationships
The most effective schools are those that actively study together
In-School Consulting Days start at $2,000 and vary by consultant and location. Online options available as well.
Please contact us to discuss your goals and help us plan a path of support that best meets your needs.
---
Get to know our network of inspiring literacy consultants.
All
K-2
3-5
6-8
9-12
Book Ambassador
Coaching and Leadership
Content Area
Literacy
Reading
Technology
Writing
---
*NYS educators, schools, and districts: we are permitted to award hours during both in-school and out-of school learning. Though rare, some districts may limit in-school or during the school day CTLE earning, regardless of vendor. Review district policy before seeking CTLE hours during our professional development offerings.