New York State educators: The Educator Collaborative is an Approved CTLE Sponsor. Every hour learning = an hour earned.*

Move your School's Literacy

Goals

to your School's Literacy

Growth
In Classrooms

,

Hands-on

Inspiration
Our primary purpose is to empower teachers to provide high quality reading, writing, speaking, listening, and language instructional so all students can achieve high levels of literacy success.
Long-term, professional development is proven to have the most lasting effects. While we are happy to provide one-day speaking engagements on in-service days, our greatest passion and purpose is to provide multi-day, ongoing literacy consulting that truly deepens pedagogy and enhances student learning.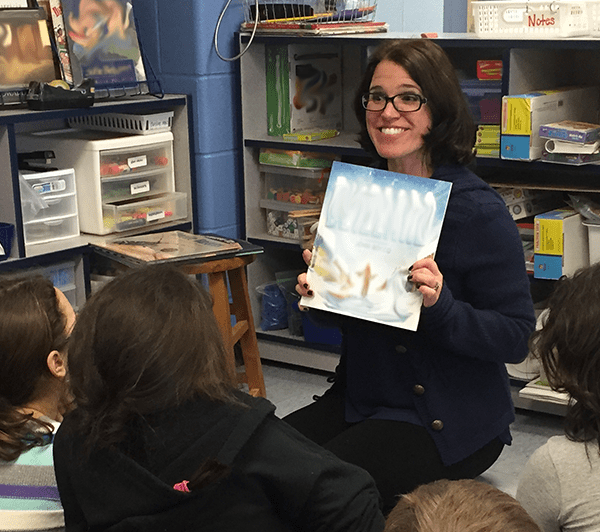 Schools engage with us from anywhere from five to twenty days across a school year. During visits, consultants work hands-on, in your classrooms, with you and your colleagues.
We demonstrate state-of-the-art practices, lead educators in immediately practicing methods with students, and collecting and analyzing student work.
During visits, consultants also support administrators and coaches in developing literacy leadership practices that facilitate adult learning and help educators grow to meet their own professional goals.
Unlike some providers, we do not push a product or sell a boxed program. We know no textbook or teacher's guide takes the place of knowledgeable, reflective, and continually learning educators. We work with you and your existing curriculum and help teachers use researched best-practices to support students.
Photo: JoEllen McCarthy, The Educator Collaborative Book Ambassador, demonstrates an engaging interactive read aloud inside a classroom.
Some examples of our support include:
Christopher Lehman, (Falling in Love with Close Reading; Energize Research Reading and Writing) working throughout the year with your school to development research-based, engaging, independent reading practices.
Towanda Harris (The Right Tools: A Guide to Selecting, Evaluating, and Implementing Classroom Resources and Practices) onsite with your district, developing best practices in your literacy courses.
Shawna Coppola, (Renew: Become a Better—And More Authentic—Writing Teacher) supporting you and your staff in conferring with your writing and integrating inquiry practices across the curriculum. 
Carla España, (En Comunidad: Lessons for Centering the Voices and Experiences of Bilingual Latinx Students) expert in multilingual education, working with you and your colleagues to support development of your English language learners. And more!
What Educators Are Saying
"The staff is absolutely in love with your work… I have never seen a response this positive to professional development here." – K-12 Curriculum Supervisor

"We are seeing just how possible this is for our students. It is inspiring."  – K-8 Instructional Coach

"I just wanted to thank you. The nonfiction reading strategies have made a big impact on my students and my teaching." – High School Social Studies Teacher

"You have really earned the staff's trust. They are anxious to have you back next year." – Elementary Principal

"You've been here many times and still every time you come I take something new away!" – Middle School Teacher
We specialize in research-based K-12 literacy pedagogy. Including these areas:
Standards Integration
including Literacy, Teacher Effectiveness, and Technology Standards
Culturally Responsive Pedagogy
Inclusive and Culturally Sustaining Pedagogy
Social Justice Education
Decolonizing Curriculum
Teaching Multilingual Students
Bilingual and Multilingual Pedagogy
Language Acquisition
Culturally Affirming Practices
Literacy Leadership
Literacy Audit
Support for Administrators with Literacy Leadership
Instructional Coaching: Training and Methods
Literacy Content and Pedagogy
Reading Workshop and Writing Workshop
Secondary Literature and Writing Instruction
Foundational Literacy Skills
Literacy in the Content Areas
Differentiation Strategies
Developing a Culture of Literacy
Formative and Summative Assessment
Digital Literacy / Literacy and Technology Integration
Education Technology Integration with Literacy
Media Literacy
Moving Students from Being Content Consumers to Content Creators
Curriculum
Curriculum Development
Curriculum Review
Move your School's Literacy

Goals

to your School's Literacy

Growth
---
Get to know our network of inspiring literacy consultants.
All
K-2
3-5
6-8
9-12
Book Ambassador
Coaching and Leadership
Content Area
Literacy
Reading
Technology
Writing
---
*NYS educators, schools, and districts: we award CTLE hours during contracted, in-school school learning. Visit our CTLE information page to learn more.