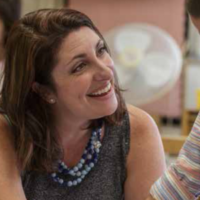 Fellow
NH
Shawna Coppola is an expert in child and young-adult literacy, including in practices that support a diversity of writing types and young writers
An educator for almost two decades, Shawna has worked both as a middle school language arts teacher (6-8) as well as a literacy specialist/coach (K-6). For the majority of that time, she has taught in multiage classrooms and is effective at engaging learners of all ages in reading, writing, speaking, viewing, and listening experiences. As someone who believes in neurodiversity, she is a fierce advocate for all students–in particular, for those who may not fit the profile of a "typical" learner. In addition to working with students, Shawna has led courses and workshops for educators through the University of New Hampshire's NH Literacy Institutes as well as their Professional Development and Training program.
Recently, Shawna's work has included collaborative projects with educators on facilitating young children in critical conversations around race, equity, and social justice. Using both current and historically significant texts written by Indigenous, Black, and people of color that consist of a wide variety of forms and modalities, she helps students and teachers find accessible "doorways" into learning about the issues that matter most in supporting inclusive, compassionate, and equitable worlds on both the local and global level.
Shawna is the author of Writing, Redefined: Broadening Our Ideas of What It Means to Compose (Stenhouse 2019), Renew! Become a Better-and More Authentic–Writing Teacher (Stenhouse 2017) and a number of pieces that have been featured in Voices from the Middle, Literacy Today, The Reading Teacher, Education Week, The Nerdy Book Club blog, and others. You can hear her speak on a number of literacy topics on The Dr. Will Show, OCTELA's Speaking and Listening Podcast, and Stenhouse Publisher's Mentoring New Teachers podcast series. She has also presented at a number of national and regional education conferences, including ILA, NCTE, ASCD, and The Educator Collaborative's own #TheEdCollabGathering.
Shawna is devoted to helping all learners experience the joy that literacy can offer. Learn more about Shawna and her work by visiting her website or her Facebook Page, and/or connect with her on Twitter at @shawnacoppola.