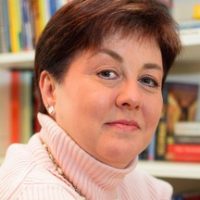 Fellow
IL
Dr. Cindy Gerwin is an expert in upper elementary and middle school literacy instruction, curriculum design, and assessment.
Cindy is lifelong learner, educator, speaker/storyteller, author, and bibliophile. She is passionate about literacy in multi-modalities and about building inclusive literacy communities full of curious joyful learners. Cindy is an advocate for culturally responsive pedagogy, social equity, and restorative justice.
Cindy shares her passion in elementary classrooms by engaging students and their families with authentic, integrated, and interdisciplinary literacy experiences. She is the founder/sponsor of the Literacy 4 Life (L4L) community supporting three branches: student, family, and teacher. The L4L community seeks to: create positive joyful literacy experiences, improve access to culturally relevant books, bring district stakeholders together to collaborate and share knowledge, and empower change. Cindy is also the founder of Bridging Perspectives, LLC an educational advocacy, professional learning, and consulting group.
Cindy has served as an adjunct/university practicum supervisor for National Louis University, as a cooperating teacher for pre-service educators, and as a mentor to early- career practitioners. She has written numerous articles including a column in the Illinois Reading Council (IRC) Journal. She has traveled both nationally and internationally to share her passion for literacy learning by presenting and learning alongside of educators from around the world. Cindy's expertise includes: the affective domain of reading (motivation, engagement, identity, agency, self-efficacy); multicultural literacy; integrated inquiry/project-based learning, social equity, and restorative justice. She builds upon current research, theory, and data to provide practical, realistic applications in today's classrooms.
Cindy has a Bachelor of Science in Business, Management and Marketing, from Eastern Illinois University. She earned a Master of Arts in Elementary Education (K-9) from Benedictine University (2009) and an endorsement to teach English as a Second Language (K-12) from National Louis University (2008). In 2013, Cindy became a National Board Certified Teacher, Illinois Master Teacher Certification; Generalist–Middle Childhood. She earned her Doctorate of Education in Literacy from Judson University in May of 2018. While working on her doctorate, Cindy also earned a Reading Teacher endorsement (K-12).
The combination of Cindy's business and educational experience provide her with a unique background to guide an organization's leaders in the systematic implementation of a vision and mission through the development and/or fine-tuning of long- and short-term goals, systems, programs, and curriculum designed to focus on improving learning outcomes and maximizing growth.
Cindy is the Past President of the Illinois Reading Council. She was the 2014 Conference Chair overseeing the most well attended and profitable conference, Building Bridges to Literacy, in the organization's history. She also holds memberships in such organizations as National Education Association, Association for Supervision and Curriculum, National Council of Teachers of English, and International Literacy Association. Throughout her coursework, by attending various seminars/workshops, and by actively participating in educational organizations, she has committed herself to excellence in education through lifelong learning.