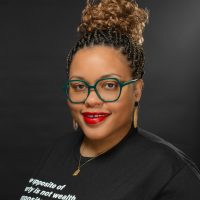 Fellow
TX
Dr. Lois Marshall Barker is an expert in secondary reading and writing instruction, learning with technology, curriculum development, and multicultural education.
With over 16 years in education, Lois believes every student deserves access to equitable, inclusive, high-quality education in safe and liberated spaces. She believes educators deserve space and time to be supported and challenged as they deepen their pedagogical knowledge and skills through meaningful, quality, professional learning not rooted in oppressive instructional practices.
Dr. Barker completed her doctoral degree at Abilene Christian University in May 2021. Her concentration was on learning with emerging technology. Her dissertation assessed the implementation of 1-1 learning in a South Texas school district, specifically examining the impact on the success of 10th-grade ELA students. She completed her master's in education at the University of Texas at Arlington in Curriculum and Instruction, focusing on literary studies.
She has served in both classroom and leadership roles. She served as a lead teacher and ELA and ESL department chair for six years. Her roles included teaching English Language Arts (grades 9-11), Reading Intervention (grades 9-12), AP Language (grade 11), and Newcomer-ESL (grades 9-10). She has served as a Teacher Development and Curriculum Specialist in Houston. She worked with ELA, AP, and ESL teachers to create blended learning spaces and create student-centered curriculum. She was a part of the Houston ISD curriculum team that created and piloted online learning content.
Dr. Barker is a secondary ELA curriculum developer based in Houston, TX. In her current organization, she leads learning sessions on DEIB, including revising content design guidelines to include a DEIB lens. Dr. Barker has won awards for her advocacy, volunteerism, and DEIB work within the organization. She is a proud NCTE member, serving as the Region 6 Representative of the Standing Committee on Affiliates. Dr. Barker is also a board member of TCTELA, the TX affiliate of NCTE. She is their NCTE Liaison and SLATE Representative and coordinates the affiliate's Education Advocacy Day during the TX legislative session. Lois is also TCTELA's Dream Program coordinator. In this role, she works to recruit and mentor pre-service teachers of color and BIPOC high school students with goals of pursuing education in college. Most recently, she took ownership of the organization's Ambassador Program.
Dr. Barker's work can be found in TCTELA publications, NCTE newsletters, the #31daysIBPOC project, and other sources. Her writing often focuses on areas of her continued research and practice, such as language oppression and linguistic discrimination, creating blending learning spaces, and the intersections between education policy, social justice, and curriculum. In 2021, she co-authored a book with her daughter, Ava's Caribbean ABC, to celebrate their Caribbean heritage. Dr. Barker is an avid reader and serves on Houston's Teen Book Con Festival committee.