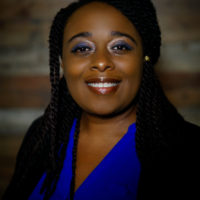 Fellow
CA
Vanee Smith-Matsalia is an award-winning educator and expert in secondary literacy.
Vanee was the 2020-21 San Bernardino County Teacher of the Year. She is a demonstration teacher and dedicated instructor of English at Curtis Middle School in the San Bernardino City Unified School District. Ms. Smith-Matsalia works to design transformational professional development for educators in Anti-Bias/Anti-Racism, classroom engagement, English Instruction, and several other areas, as well as serving in multiple capacities of educational leadership. 
Vanee is heavily engaged in educational research surrounding literacy, writing practices, classroom engagement, UDL, and Educational Justice. She sits on the board of Southern California Teachers of English (SCTE) as well as Women in Comics Collective as their education liaison. She is serving on the Middle Level Steering Committee for the National Council of Teachers of English, and was selected as an ASCD emerging Leader Fellow of the 2021-22 cohort. Vanee is passionate about research based equitable grading practices and high engagement-high impact reading instruction
Vanee develops curriculum for thousands of students and serves as a mentor teacher, guiding teachers beginning in the profession. Ms. Smith-Matsalia has piloted and runs Avid Umoja, a program designed to help Black students succeed and excel academically, socially, and personally. The program has been successful in creating safe spaces for Black students and increasing their enrollment in honors, Middle college high school, and Avid.
Her passion for student, teacher, and community growth is her north star.