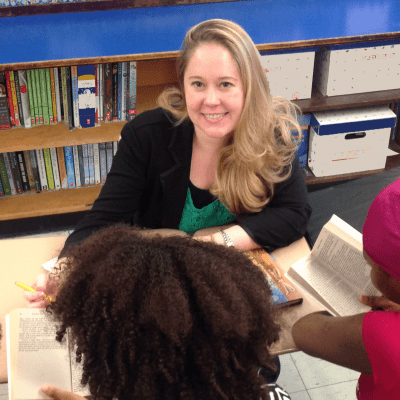 Fellow
VA/DC
Elizabeth Lacy Schoenberger brings expertise in standards-based grading, curriculum development, and instructional coaching to The Educator Collaborative.
Elizabeth draws on vast experience in urban education, serving as a classroom teacher, Professor of English education, Reading Specialist, Literacy Coach, Teacher Leadership Support and Design Manager, and Instructional Supervisor at the middle school and college levels.
Elizabeth currently teaches at the middle level, putting research into practice at a DC metro area school district.
Her leadership in curriculum restructuring, developing standards aligned assessments, and facilitating interdisciplinary teams has had powerful effect on the teachers and students she serves. She has innovated methods for school-based data collection using online tools, including staff and student surveys that help to look at the whole school culture beyond only test scores.
In her roll as a Fellow, Elizabeth helps to lead much of TheEdCollab's curriculum development and assessment practices, helping our members blend standards alignment and literacy best practices to form curricula that meets a diverse student population. Additionally, Elizabeth brings a deep knowledge of adult learning practices, developed from years of studying, as a participating educator, with a number of organizations including the Aussie Network, Teachers College Reading and Writing Project, NCTE, and Kylene Beers and Bob Probst.
She has presented at national conferences and has appeared in Teachers and Writers magazine. She holds a Masters in Teaching from Pace University. She pursues creative writing with an independent writing group, and passes her free time devouring young adult and adult fiction, and playing with her dogs. 
Elizabeth brings to schools systematic ways of approaching redesign and alignment, methods for self-assessment, and a particular belief and love for the needs and strengths of middle school learners.
Elizabeth's presentation at the Fall 2017 #TheEdCollabGathering