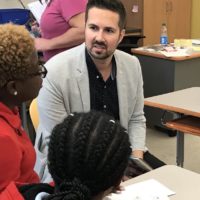 Founding Director
NY
Christopher Lehman is the Founding Director of The Educator Collaborative.
Chris has been a middle-school teacher; a high-school teacher; and literacy coach. After which he served as a Senior Staff Developer with the Teachers College Reading and Writing Project at Columbia University. Now, as Founding Director of the The Educator Collaborative, he is working to innovate the ways educators learn in-person and online, providing opportunities for teachers, coaches, and administrators to share their expertise so students can hold their brightest futures.
He presents regularly at conferences including NCTE, ILA, the International Society for Technology in Education (ISTE), and the National Center for Families Learning (NCFL), as well as frequent keynotes at state conferences, universities, and school district events around the world.
A graduate of UW-Madison, Chris went on to receive his M.A. in Teaching from NYU, and his Ed.M. in Education Leadership from Teachers College, Columbia University.
Chris serves on the Board of Directors for the National Center for Families Learning and on their Education Work Group. He is a past Chair of the NCTE Middle Level Section (term 2016-2018, Steering Committee term 2014-2018) and past member of the NCTE governing body, the Executive Committee (term 2016-2018), where he chaired the Strategic Planning Subcommittee.
Clients have included
University of Wisconsin-Madison, Columbia University, Rutgers University, Valparaiso University, Furman University, University of Missouri, Hamline University, Cleveland State University, St. John's University, Brigham Young University, Delaware Department of Education, South Carolina Department of Education, Library of Congress, Colorado Council International Reading Association, Wisconsin State Reading Association, North Carolina Reading Association, Illinois Reading Council, South Carolina State Council of the International Reading Association, Texas Council of Teachers of English Language Arts, Virginia State Reading Association, New Mexico International Reading Association, Madison Area Reading Council, Berks County Intermediate Unit, Capitol Region Education Council, Middle East and North Africa Common Core Conference, The Leadership and Learning Center, National Center for Families Learning, Heinemann Professional Development, Scholastic Professional Development, and the Association for Supervision and Curriculum Development. He has served schools and districts in California, Connecticut, North Carolina, New Hampshire, New Jersey, New York, Oregon, South Carolina, Tennessee, Wisconsin, Washington, Taiwan, Jordan, Saudi Arabia, United Arab Emirates, among others.
Praise for Chris' work:
"…not only did I learn so much this week, but you made me love teaching again!"
"Our teachers love when you are here. You make them feel they can take risks."
"This is one of the best days of PD I have ever had, and I have had many!"