<<Return to About/Register page
#GKP19 Is May 6-31, 2019
How-To
First, Register. Click here:
Beginning in May, we will email you updates and tips each week.
Join for four weeks (or self-guide your own four at a later time).
Use the Global Kind Project Pacing Guide to plan each week:
Study Together: find your own or choose from weekly texts, videos, and resources to inquire with your classroom
Reflect and Wonder: exploration questions and activities support investigation more deeply
Connect with Others: connect with classrooms near and far over blogs, email, social media, or even video conference
Share and Grow: share, question, reflect and celebrate with others
Connect with other educators through social media! Use #GKP19!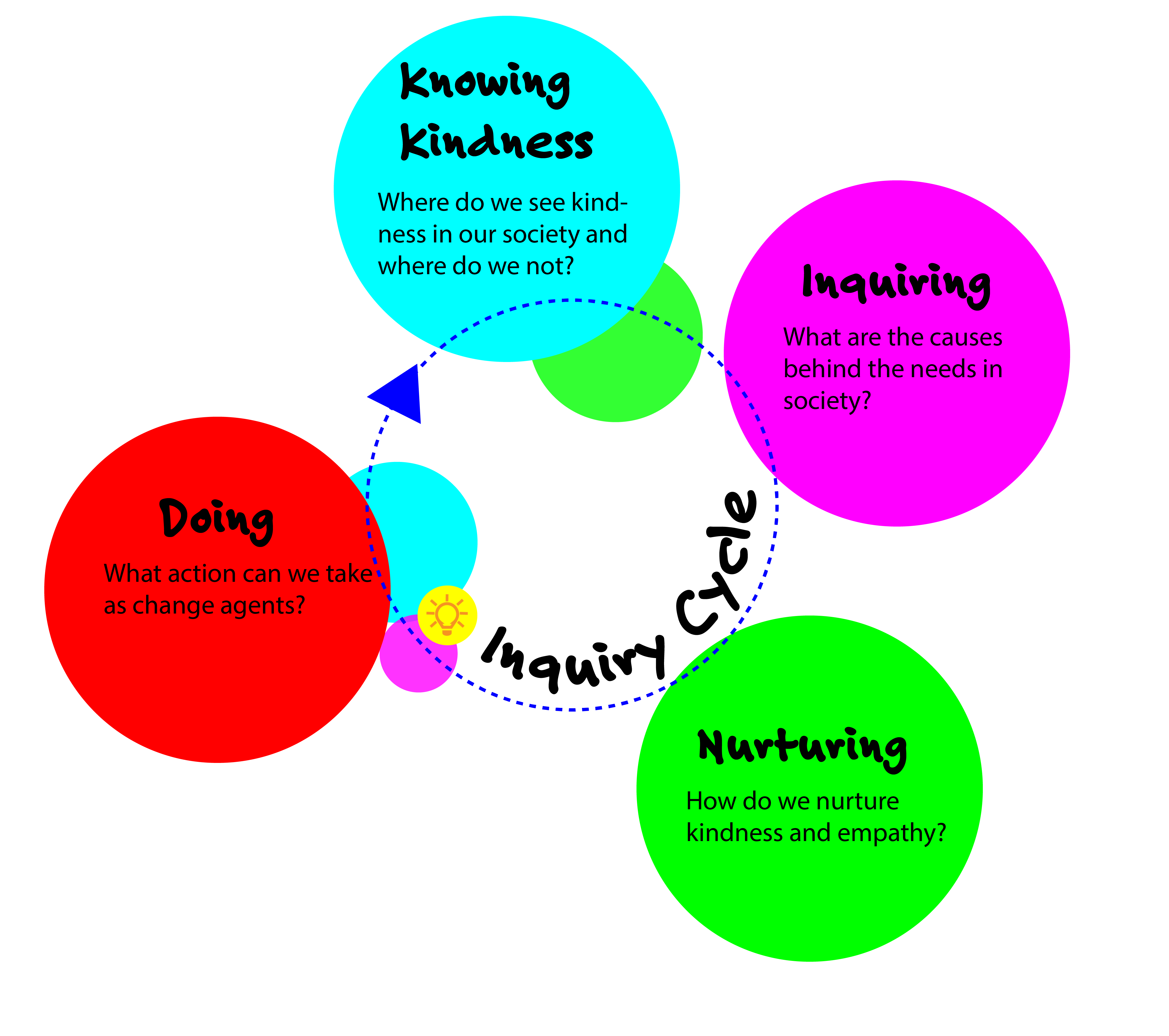 Week
Exploration Questions
Participant Challenges
Curated Resources

Week 1




Knowing Kindness focuses on recognizing where we see kindness in society and where we do not.
💭 What is kindness?

💭 Where do we see kindness in our society and where do we not?

💭 How do you know when a person is in need of kindness?

💭 How can we show kindness to the world around us (society, environment, animals, etc.)?

✏️ Kindness Log:
Keep a class or individual log(s) this week of ways you shared kindness with others.

After, consider:
What did you do? How was it received? What would you do the same or differently next time?


✏️Acts of Kindness,:
Think of friends, family members or even strangers that you could perform a small act of kindness for (E.g. surprise treat, an offer to help with something, unexpected note of appreciation).

After, consider:
What gets in the way of performing these acts more regularly?
What do the people you did these things for have in common? Why do you think you chose them?

Are there some people you purposefully took off of your list? Why? What, for you, would compel you to want to perform an act of kindness for one of these other people?


📖 🎥 🖥

Elementary Students


Older Students


Lesson Ideas


Week 2




Inquiring focuses on identifying one area of concern in society and taking the time to recognize the causes behind the need for kindness.
💭 What are causes behind the needs in the world around us?

💭 How can we gain a greater understanding of such needs and why they exist?

💭 What are the resources we can use to learn more about the needs in the world around us?

💭 What is our role in spreading kindness in our society?



✏️ Digging Deeper

We recommend collaborating with other classrooms to exchange resources and discuss your findings.





Reflect and collaborate in selecting specific needs that you may want to explore.


Research needs within your society and the world around you.


Choose the need you would like to focus on.


Identify the underlying causes of this need for more kindness.


Determine what you can do to spread kindness in this area.

After, consider:
What is the difference between simply wanting to be kind and investing in kindness?

📖 🎥 🖥
Elementary Students


Older Students


Lesson Ideas


Week 3




Nurturing focuses on exploring possible solutions and developing a plan to bring more kindness into the world.
💭 What is empathy and why is it important?

💭 How do we nurture kindness and empathy?

💭 Can kindness ever be hurtful or not go the way you intended it to?

💭 How can we partner with people we hope to help?

✏️ Empathy Interviews

Interview someone who has been affected by your chosen concern. Explore their point of view.

Possible questions:


"Tell me about the time ____"




"Walk me through how you____"




"How do you feel about___"




"Why is that? Why do you say that? Tell me more"




After, reflect:




What did you assume before and understand now? What are you taking away from the experience?


What assumptions might you carry about others you were not able to interview? How can you learn more about their experiences?


What implicit biases did you notice about yourself that may have shaped your initial assumptions?






✏️Paseo Protocol

Conduct the Paseo Protocol Activityto help facilitate dialogue to develop a better understanding our own identity and how that may shape our decisions. This process creates a space to help students gain a better understanding of self and the individual through empathetic listening.


✏️ Mix It Up (At Lunch or in Your Classroom)

Watch the videos at Teaching Tolerance by Monita Bell, the coordinator of Mix It Up At Lunch. Host a Mix It Up At Lunch event in your school or adapt for your classroom.

Here are several "Mixers" activities by Teaching Tolerance to get you started


✏️ Create a Plan

To get inspiration, explore other student driven projects and reflect on how you could do something similar.

After, consider:




Who/what is the intended recipient of the project?


What is the intended outcome of the project?


What are the steps for implementing the project?


What obstacles might you face?

📖 🎥 🖥

Elementary Students


Older Students


Lesson Ideas


Week 4




Doing focuses on participants becoming change agents by implementing their action plan.
💭 What actions can be taken to become change agents?

💭 How will you know if your plan was successful in spreading kindness?

💭 How can we sustain spreading kindness in this way, after the Global Kind Project ends?

✏️ Implement Plan




Propose project and plan


Invite a non-profit or other experts to further educate you on the need it serves


Implement project


Reflect on its impact on the issue and the personal impact on you!

The National Center for Families Learning (NCFL) Service Learning Guides can help:
NCFL - Family Service Learning Planning Questions
NCFL - Family Service Learning Planning Sheet




✏️Market Plan - Gain Community Support

Spread awareness about project and the cause it addresses. Gain traction and attention of others beyond your school community by marketing your efforts. Get more people involved!


After, consider:

How has this experience changed you? What do you see differently? What do you plan to think or do differently in the future?

How successful was the project in addressing the issue? What went well? What is left to be done?

Reflect on how your efforts can evolve to make them more sustainable. How can you help keep this work going? Who else can you involve?
📖 🎥 🖥

Elementary Students


Older Students



Lesson Ideas

National Center for Families Learning (NCFL) Service Learning Guides:
NCFL - Family Service Learning Planning Questions
NCFL - Family Service Learning Planning Sheet

Teaching Tolerance
Multicultural Service-Learning: Teacher Planning Sheet

Here are some suggestions for service projects your class can take part in:

---
*Disclaimer: Before connecting with another classroom, be sure your school/district's policies support videoconferencing or other means of classroom to classroom sharing of student work, likenesses, and/or other information. "The Educator Collaborative," "Global Kind Project," and related logos are trademarks of The Educator Collaborative, LLC. Resources for the Global Kind Project are curated by educators, The Educator Collaborative does not claim ownership of any specific resource unless explicitly stated, all resources are posted via links freely available online. If you are copyright owner of information contained within a third party link, please first contact that third party. By participating in the Global Kind Project, you agree to be solely responsible for the methods, means, and resources you select and employ, you agree to secure in advance any required permissions or waivers necessary for student involvement, you agree you will directly oversee any student involvement and ensure it meets all applicable district, local, and federal laws and regulations, including privacy and fair use, and you agree to indemnify and hold harmless The Educator Collaborative, LLC, its members, managers, staff, and assignees from all claims arising from your involvement.