Strong Literacy Learning is more than lessons and units. 
Growth takes place
only when students are

socially

,

emotionally

, and

intellectually

 engaged in learning.
---
Your Free Copy of the Strong Classrooms Self-Assessment
Sharing with colleagues?
Leading Professional Development with the SCSA?
>> Visit our SCSA Community Toolbox <<

📚🎓✍️💡
Video, Slides, and other Resources

---
Built on research and in-classroom practice and aligned with evidenced practices for supporting student growth, our "Strong Classrooms Self-Assessment: Conditions for Highly Effective Literacy Learning" is unlike any assessment or evaluation tool you have used (or has been used on you) before.
Visit our Community Tool Kit to watch Christopher Lehman demonstrate the Strong Classrooms Self-Assessment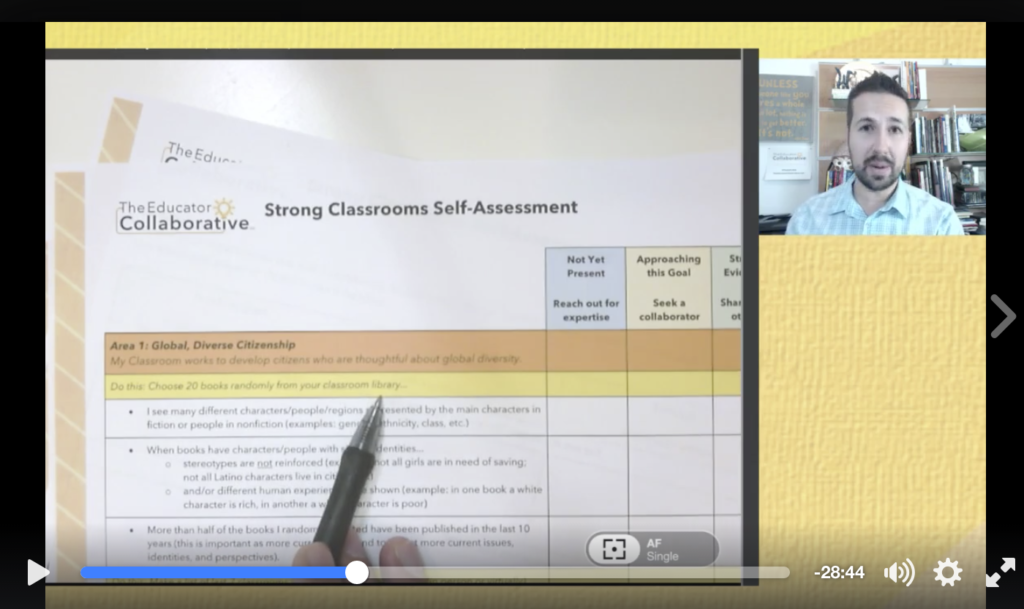 Lessons are not Enough

Well written units are only effective tools for learning if students are socially, emotionally, and intellectually prepared for learning and engaged in improving their own skills. As Dr. John Hattie notes, there is low statistical significance between student achievement and a teacher's subject knowledge. It is not how much a teacher knows, it is how effectively students can learn ("The Visible Student" presentation at the International Literacy Association Conference, Boston, MA, 2016; see also Visible Learning for Teachers, 2008).
Each of the Four Areas in the Strong Classrooms Self-Assessment are strategically chosen indicators. Much like a pediatrician will check a child's temperature to evaluate the current overall health of the child, these indicators help to reveal key focus points for your classroom that will improve student learning.
Evaluation without Fear

Furthermore, unlike many evaluation instruments and assessments. The entire Strong Classrooms Self-Assessment is directly aligned to collaborative practices. You will not see punitive labels here. Instead, you will see points of reflection, self-assessment activities, and opportunities for collaboration.
We know, and research shows, that teachers involved in meaningful, collaborative practice lead to the strongest student outcomes and have the highest job-satisfaction.
We are delighted to share the Strong Classrooms Self-Assessment with you, because we are absolutely confident that the evidence-based, practical areas described in this assessment will lead to important conversations at your school that directly impact student literacy achievement.
We hope the Strong Classrooms Self-Assessment can be a tool that helps you see your classroom with fresh eyes and invites you to take stock and perhaps even strategize while the year is fresh and new!

Thank you for all you do for students,
for your colleagues,
and for our great profession!
Here is to a joyful school year!
Strong Classrooms Self-Assessment Feedback Form
Provide Feedback on the Strong Classrooms Self-Assessment Here
Your FREE Copy of the
Strong Classrooms Self-Assessment
Please share your reflections online using #TheEdCollab
or Provide Feedback to improve the document in the box on this page.