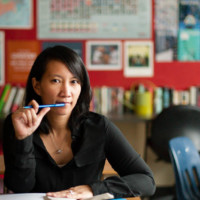 PA
Tricia Ebarvia is an expert in adolescent literacy, with a focus on inclusive, student-centered practices through reading and writing workshop.
Tricia is currently an English teacher in Pennsylvania, where she began teaching after receiving her Masters degree at the University of Pennsylvania in 2001. Since then, she has taught world literature, American literature, AP English Language & Composition, AP Literature & Composition, AP Capstone, and has served as a faculty advisor for several student groups.
In addition to her work on various language arts, diversity, and technology committees in her district, Tricia is also a Co-Director for the Pennsylvania Writing and Literature Project (PAWLP) at West Chester University. In her work with PAWLP, Tricia teaches graduate courses on reading and writing in digital spaces as well as teacher inquiry. She also helps to lead the project's anti-bias and anti-racism study group.
Selected as a 2016-18 Heinemann Fellow, Tricia's action research examined the ways in which elementary reading and writing practices can be used to further adolescent literacy, specifically focusing on teaching comprehension strategies. Her work expanded to interrogate the ways in which readers' varied and intersecting personal identities inform the ways in which students read themselves, texts, and the world. By helping students reflect on their experiences, and the biases that have emerged from them, Tricia hopes that this habit of self-reflection, coupled with critical literacy skills, will help students become more responsible and engaged citizens and members of their community.
As a teacher consultant for the National Writing Project and a member of the National Council of Teachers of English (NCTE), Tricia has presented at the NWP Annual Meeting, the NCTE Annual Convention and other regional conferences. In her work as a presenter and consultant, Tricia has discussed literacy topics that include: choice independent reading and classroom libraries, authentic mentor texts for writing, multi-genre research writing, student inquiry projects, adolescent reading strategies, digital tools and literacies, anti-bias pedagogy, teacher action research, and curriculum planning and design.
Tricia is co-founder of DistruptTexts, a crowdsourced, grass roots effort by teachers for teachers to challenge the traditional canon in order to create a more inclusive, representative, and equitable language arts curriculum that our students deserve. It is part of our mission to aid and develop teachers committed to anti-racist/anti-bias teaching pedagogy and practices.
Tricia writes online at her website, triciaebarvia.org, and contributes regularly to the Heinemann Blog, Moving Writers, and Write Connect Share (PAWLP). Her writing has also appeared in Education Week and English Journal.