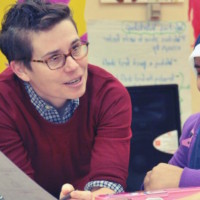 CT
Kate Roberts is an internationally recognized expert in elementary and secondary reading and writing practices, close reading, and student-centered instruction.
Kate is a national literacy consultant, top-selling author, and popular keynote speaker. She taught reading and writing in Brooklyn, NY and worked as a literacy coach before joining the Teachers College Reading and Writing Project in 2005, where she worked as a Lead Staff Developer for 11 years. Her work with students across the country has led to her belief that all kids can be insightful, academic thinkers when the work is demystified, broken down and made engaging. To this end, Kate has worked nationally and internationally to help teachers, schools, and districts develop and implement strong teaching practices and curriculum.
Kate is the author of A Novel Approach, Falling in Love with Close Reading (with Christopher Lehman), and of DIY Literacy: Teaching Tools for Differentiation, Rigor, and Independence (with Maggie Beattie Roberts), along with two Heinemann TCRWP Unit of Study books on Literary Essay. Her blog, indent, is a touchstone for hundreds of teachers and she uses social media, particularly Twitter (@teachkate), to help build community and solve problems among her educator peers.
In addition to her consulting and writing, Kate is regular speaker at many state and national conferences, including NCTE, ILA and EduCon. She currently serves on the NCTE Middle Level Section Steering Committee. She also has contributed to several popular blogs, such as The Nerdy Book Club and Two Writing Teachers. You can learn more about Kate's work, as well as access videos and other resources, at kateandmaggie.com.