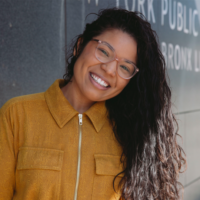 Dulce-Marie Flecha is an expert in literacy pedagogy, multi-lingual literacy, and in trauma-informed literacy practices.
Dulce-Marie has dedicated her career to serving homeless and highly mobile students through equitable, trauma-responsive, multilingual literacy education. Throughout her career she has built her unique expertise by teaching and leading in public schools, homeless shelters, and foster care agencies.
Dulce-Marie provides support to schools and educators on planning deep and responsive reading and writing workshops that account for the full emotional and social experiences of children and youth. Living true to the values of workshop instruction, that classrooms should be responsive to the lives of the children within it.
Dulce-Marie began her career as a bilingual Special Education teacher within the Internationals Network for Public Schools, a network of public schools that serves recently arrived immigrant students. As the school's first Special Educator, she co-taught Global History, Language, and Literacy courses and wrote and maintained Individualized Educational Plans for all of the school's students experiencing disabilities. Dulce-Marie also acted as the liaison between immigrant caregivers and their new school system. After receiving feedback from several of her students' families, she began to develop materials and host bilingual workshops on the U.S. Special Education evaluation process and student rights.
Dulce-Marie transitioned from public to alternative education in the summer of 2015, when she accepted a position as Head Teacher at a New York City family shelter. She led a toddler classroom and an after school program for school-aged children. There, she began her work in writing and adapting curriculum for homeless and frequently absent students. She also began to hone her skills in student crisis intervention and continued her work in developing bilingual workshops and materials for student caregivers.
As a graduate student at Teachers College, Dulce-Marie had the privilege of studying reading and writing workshop under graduate program leaders Dr. Marjorie Siegel, Dr. Lucy Calkins, and many other brilliant literacy educators.
After graduating from the Teachers College at Columbia University with a Masters Degree in Literacy Specialization, Dulce-Marie accepted a position as an Assistant Director of an alternative education program for unaccompanied and separated immigrant children.
Her current role involves coaching and developing professional learning for a team of 80 educators of color; adapting curriculum to meet the academic and emotional needs of migrant children, aged 0-17; and collaborating with clinicians and local community organizations. Her work also requires being the point of contact to emotionally disregulated children.  She is immensely proud to work with a team of educators and therapists who prioritize student safety while in crisis. 
Dule-Marie presents frequently at literacy and trauma-informed education conferences, including NCTE's annual convention. A gifted writer, her work appears in many places, including her popular Medium page, where you can read her writing on mental illness, trauma, and literacy.
Dulce-Marie would like to publicly thank the brilliant Black and Latina educators who have built her throughout the past decade: Veronica, Trené, Angie, Waleska, and her mother, Isabel, who is both the greatest teacher and the greatest clinician Dulce-Marie has ever met.