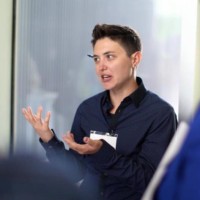 NC
Dana Stachowiak, Ph.D., is an expert in social justice and diversity education and in using literacy best practices to build teacher and student empowerment.
She is currently Assistant Professor of Curriculum and Instruction in the Watson College of Education at the University of North Carolina Wilmington. She has been a classroom teacher and literacy coach at both the elementary and middle school levels and has been a consultant for both urban and rural school districts.
Dana helps to lead much of The Educator Collaborative's social justice work, supporting the organization and it's members in confronting power and privilege in ourselves and our work, and bringing methodologies of "Radical Love" (Friere) to our practice, methods, and scholarship.
She is contributing author to a number of publications, including Culturally Affirming Literacy Practices for Urban Elementary Students (edited by Lakia M. Scott and Barbara Purdum-Cassidy); Becoming and Being a Teacher: Confronting Traditional Norms to Create New Democratic Realities (edited by P.L. Thomas); as well as others on social justice issues in education; gender and sexuality; and arts and visual literacies for social justice. Additionally, Dana co-edited a special issue for the International Journal for Critical Pedagogy on teaching social justice in teacher education programs.
She is a frequent speaker on these issues at numerous national and international conferences, colleges, universities and non-profit organizations, including NCTE and ILA, where she brings her deep knowledge of diversity education, personal experience, and understanding of literacy practices to educators and scholars.
Dana was elected Vice-Chair, in 2017, of NCTE's Genders and Sexualities Equality Alliance, an assembly which provides a forum for ongoing and sustained discussion among all individuals who share a professional commitment to lesbian, gay, bisexual, trans, and queer (LGBTQ) students, teachers, issues, and academic materials as they pertain to the teaching of English at all levels of instruction.
She is also the founder and curator of Queer[ed] Storyscapes, an ongoing project providing space for LGBTQ people to learn about and share their experiences of being queer in Wilmington, North Carolina, through art and expression.
Dana supports schools with developing school-wide literacy leadership and growth, inclusive practices to reach all members of the community, effective coaching methods and literacy to support cultural competency.
Dana lives, writes, and teaches on the beaches of North Carolina with her fur babies.
Dana's presentation at the Fall 2015 #TheEdCollabGathering