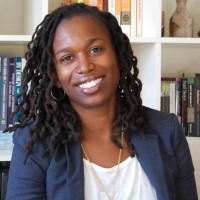 NY
Dr. Chantal Francois is an expert in child and adolescent literacy and has a research focus in areas of reading, writing, and the study of conventions.
Chantal brings her experience as an urban public school teacher, a literacy researcher, and a pre-service instructor to The Educator Collaborative network. She is currently the literacy coach of East Side Community High School in New York City where she taught middle and high school English for several years. In this role, Chantal supports teachers to cultivate a robust independent reading program, to design critical and accessible writing and reading workshop units, and to focus on individual and collective problems of practice.  
Chantal was previously a lecturer at Teachers College, Columbia University, a staff developer at the Teachers College Reading and Writing Project, and an assistant professor at the Rutgers University Graduate School of Education.
Chantal earned her doctorate at the Harvard Graduate School of Education where she served on the editorial board of the Harvard Educational Review. She was also the recipient of the National Academy of Education Adolescent Literacy Predoctoral Award. Her research uses sociocultural theories to examine urban adolescent reading, motivation, and identity in the context of school culture. Chantal is also interested in exploring contemporary uses of literacy as a tool for political, social, and personal freedom among youth.
Chantal holds two master's degrees, from Harvard and from Teachers College, and a bachelor's degree from University of Pennsylvania.
Chantal co-authored Catching Up on Conventions: Grammar Lessons for Middle School Writers (with Elisa Zonana) and co-edited of Humanizing Education: Critical Alternatives to Reform. Her articles appear in the Harvard Educational Review, Journal of Adolescent and Adult Literacy, Teachers College Record, Voices from the Middle, and Education and Urban Society. Chantal is a member of the International Literacy Association and the National Council of Teachers of English, and presents her teaching experience and research findings regularly at both annual conventions.